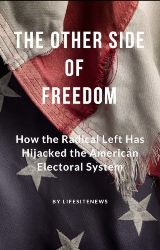 The left has been waging a war on America's democracy for years. The widespread voter fraud we have seen in the 2020 election isn't new. Voter fraud has been occurring across the nation for years.
Download our ebook to learn more about the left's infiltration of America's political system and how America is farther along the path to communism than most people realize.
You will receive an email with a link to the free ebook. Be sure to check spam/junk folders if you do not see it come through.
By signing up, you agree that LifeSiteNews can send you additional pro-life news and other marketing emails.