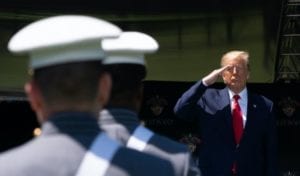 Form or button/link to form for signing.
PETITION UPDATE (12/14/2020) –
The vaccine roll out is beginning in the United States, and first responders have been tagged as those likely to be among the first to receive a vaccine.
President Trump needs to ensure that this is entirely voluntary.
Please SIGN and SHARE this petition, today!
_______________________________________________________________________
Early reports suggest that the U.S. military could be first on the list of those ordered to take a COVID vaccine.
But, no one should be forced to be vaccinated against his or her will, especially members of the U.S. military!
Military men and women, and their families, already sacrifice enough for the safety of our country. Forcing them to take an untested and unproven vaccine, against their will, would violate the spirit of their contract with America.
This petition says 'No' to treating our servicemen and women like guinea pigs with an unproven and insufficiently-tested vaccine.
Please SIGN this petition to President Trump asking him to declare, as Commander-in-Chief, that members of the armed forces will not be forced to take any COVID vaccine.
So far, big pharmaceutical companies have reported casualties and halted trials for a COVID vaccine on numerous occasions:
An AstraZeneca COVID trial participant died over the summer.
On October 12, Eli Lilly stopped a COVID antibody trial because of safety concerns.
Johnson and Johnson paused their vaccine trials on October 11 because one participant had an "unexplained" illness.
And, other AstraZeneca trials in the UK were put on hold both in July and September after participants developed a "serious neurological condition that might have been caused by the vaccine."
No one, especially in the U.S. military, should be used as a guinea pig for proving the "effectiveness" of any COVID vaccine.
Apart from these real health concerns, many military men and women object to vaccines made from aborted fetal cell lines and to other unethical testing, and these ethical considerations should also be honored.
Please SIGN and SHARE this petition which calls on President Trump, as Commander-in-Chief, to issue a declaration protecting the right of servicemen and women to exercise conscientious objection in relation to a mandate for them to take a COVID vaccine.
Just like it was essential for President Trump to nominate a new Supreme Court justice before the election, it is now essential that the President declare any vaccine to be voluntary for the military before January, just in case there is a transition to a new administration.
Thank you for SIGNING and SHARING this urgent petition to President Trump, today!
FOR MORE INFORMATION:
'Why rushing a COVID vaccine will likely fail to provide a safe and effective immunity' – https://www.lifesitenews.com/opinion/why-rushing-a-covid-vaccine-will-likely-fail-to-provide-a-safe-and-effective-immunity
'Coronavirus vaccine trial volunteer dies in Brazil' – https://www.lifesitenews.com/news/covid-vaccine-trial-volunteer-dies-in-brazil
**Photo Credit: David Dee Delgado/Getty Images